Writing PYXS files - an Introduction
Writing PYXS files - an Introduction#
Cross section files are simple to write. They provide a description how to convert a planar layout into a vertical material stack. PYXS scripts are really "scripts" - they are small programs which are executed by KLayout's internal Python interpreter. Simple scripts can be written without much knowledge of the Python language by following a simple recipe. Complex scripts can utilize the full power of that scheme by using loops, procedures, if statements and so on.
This document is an introduction into PYXS files. A reference with more details about the functions, methods and their parameters is provided here: PYXS File Reference.
Let us start with a simple example for a PYXS file:
# Prepare input layers




m1

 

=

 

layer

(

"1/0"

)





# "grow" metal on mask m1 with thickness 0.3 and lateral extension 0.1




# with elliptical edge contours




metal1

 

=

 

mask

(

m1

)

.

grow

(

0.3

,

 

0.1

,

 

mode

=

'round'

)





# output the material data to the target layout




output

(

"0/0"

,

 

bulk

)




output

(

"1/0"

,

 

metal1

)



With the following input: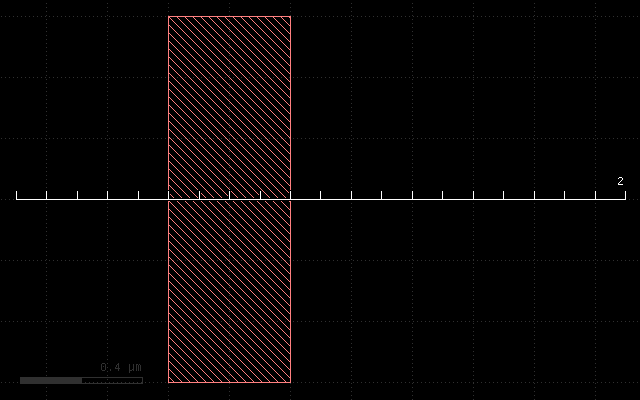 This script will produce a simple cross section: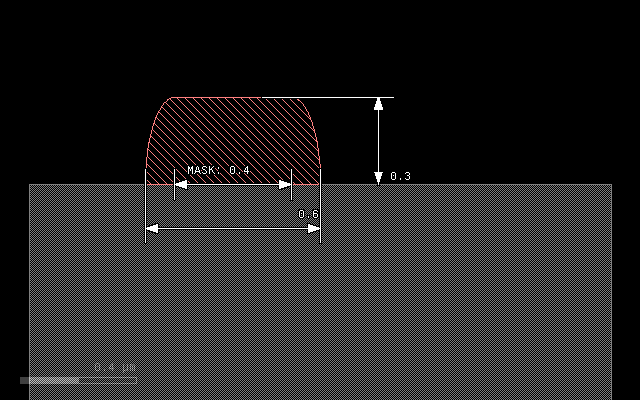 PYXS files are basically Python scripts, so the syntax rules for the Python language apply. Specifically:
Comments start with a hash symbol (#)

Functions and methods should list their parameters in round brackets after the function/method name (i.e. method(p1, p2))

Layers and materials are variables and should start with a lower case letter (according to Python style guide PEP-8)

Symbolic values (strings) are included in single or double quotes (i.e. 'mode' or "round")

Some names are reserved and cannot be used as layer or material names, i.e. or, and, if, while, def, class etc. See full list here: Built-in Functions.
PYXS files typically consist of three sections: the layer preparation step, the process description and the output section.
In the layer preparation step, mask layers are computed from design layers. Often, mask data does not exactly correspond to design layers. Mask data can be derived from design layers by:
Sizing (shifting of the edges to the outside or inside of figures)

Boolean operations between two design layers (AND, OR, NOT, XOR)

Inversion of a layer
The design layer to mask conversion still happens in the xy plane, looking at the chip layout from above. Once the computation has been finished, the layout data now represents the mask data and is converted to a litho pattern by using the "mask" function. In our example, no conversion takes place, and the input layer (layer 1, datatype 0) is directly taken to be mask data:
The mask function will basically create the cut along the ruler and prepare the mask to become a "seed" for subsequent grow and etch operations. Note that using a mask seed is not mandatory. There are also maskless operations (uniform deposit, epitaxy or planarization steps) which do not require mask data.
In this example, there is just a single, mask-driven deposition step which is performed on that mask. It uses the grow() method which is applied to the litho pattern object using the . notation:
metal1

 

=

 

mask

(

m1

)

.

grow

(

0.3

,

 

0.1

,

 

mode

=

'round'

)



grow() is the method and the result of this is a "material" object. In that case, we specify an "overgrow" with an elliptical profile. The first argument of the grow() method is the thickness of the deposited material in micrometers. The second argument is the lateral extension (diffusion) in micrometer units. mode='round' is an option (a keyword argument in Python) which specifies round or elliptical mode. In the end, this specification will widen the original line of 0.4 micrometers to 0.6 micrometers, because it will add 0.1 micrometers to each side and produce a sheet thickness of 0.3 micrometers.
The grow() method is one of the two basic methods for the process description. It can not only grow some material atop of the current stack but also convert material below the surface to another material. Find more about this method here: The grow() Method.
A material object can be used later as a target of etch processes for example. In our case, we simply output the material to an arbitrary output layer (here layer 1, datatype 0):
output

(

"0/0"

,

 

bulk

())




output

(

"1/0"

,

 

metal1

)



bulk() is a pseudo-material which denotes the substrate. It is written to layer 0, datatype 0 for illustration. In the screenshot, the metal1 material has been colored light red, the "bulk" material is colored gray.